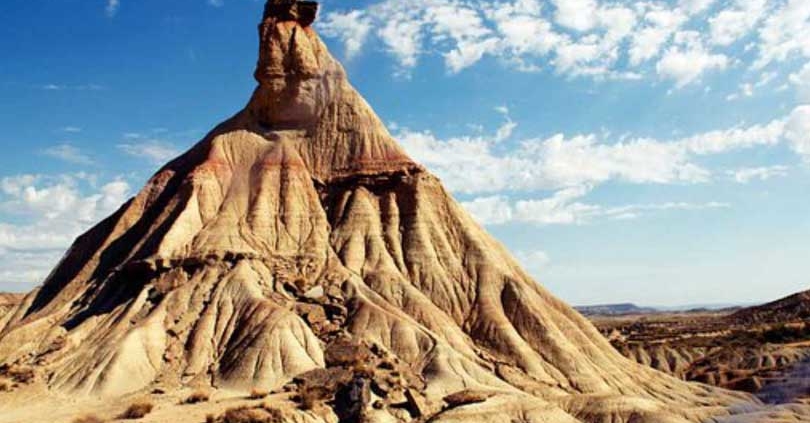 From the Aragon mountains, to the Basque coasts, through the forests of southern Saragossa, Spain is full of breathtaking landscapes steeped in an unsuspected history that will take you to another dimension, where time seems to move differently. Discover a fantastic journey in the heart of the Middle-Earth, as imagined and narrated by J.R.R Tolkien.
Hello, Mars? This Riotino!
Located in the province of Huelva, the Riotinto mining park is considered by NASA and the European Space Agency as the most representative and closest place to the Martian environment. 
It is therefore no coincidence that it was chosen by these agencies for all Mars related experiments. For a total immersion in this place, a unique mining-era style train is made available!
– This is déjà vu…
This is what you will feel when you lay your eyes on Bardenas Reales, an unexpected desert landscape in the heart of Navarre, a region known for its lush greenery and mountainous vistas. If you are a fan of "Game of Thrones", you will undoubtedly recognize the plain where we followed the adventures of Daenerys and her Dothrakis!
– Is this heaven?
Monastery of Piedra does look and feel like Eden! Located in south of Saragossa, this spot will take your breath away! Waterfalls, caves, and thick forests… let yourself be carried away by the gentle chirping of birds and the serenity of this heaven on Earth!
– Hail Atlantis.
According to National Geographic and based on Plato's accounts, the Atlantean legendary civilization may well be somewhere beneath Doñana National Park. While we wait for a general approval of this theory, bask in the incredible dunes and marshes of Andalusia this gorgeous park offers. 
To discover more, visit: 
https://www.spain.info/fr/top-10/los-lugares-mas-fascinantes-de-espana.html
https://www.metropolitancasablanca.com/wp-content/uploads/2020/03/ins_Espagne.jpg
500
810
admin
https://www.metropolitancasablanca.com/wp-content/uploads/2020/02/logo_metropolitan.jpg
admin
2020-10-21 07:51:37
2020-10-21 07:51:37
Spain's best kept secrets: